Simple Simon? Far From It!...
Posted by The Audio Hunt
Meet Simon Ayton—a real polymath or 'renaissance man' of audio: a drummer, composer, sound designer, audio engineer, synthesist, DSP programmer, hardware engineer, researcher and product specialist, and the list goes on. And that's all before getting to his insane collection of gear!

Apart from the years of experience earned by his involvement in many different aspects of the audio industry, Simon has also accumulated an impressive collection of outboard gear, consoles and a wide variety of classic synths.
Simon was kind enough to give us some of his time and share some of his diverse skillset with us.
Can you share with us what you're working on at the moment?
Mixing things, fixing things, hitting things, repeat. Not necessarily in that order haha...
My job at Roland as the V-Drums specialist and R&D team member keeps me busy, but I've got constant work coming in locally and I'm continuing the long-distance audio work with some mastering for a Berlin-based artist whom I've never met. I enjoy the flexibility of working in many different ways within the industry.
The lack of face-to-face contact (when working remotely) means it's all about the sound, which is great for both sides. There's no established relationship to protect so you can be really focused on what they want or what you imagine suits the music which can potentially be as much a part of the creative process as the writing of the song itself. It's the same for the artist so it puts them in a unique position to get the results they feel really serves their music.
I do quite a bit of this with drum parts, too, and it gives me a great buzz reading the excited responses once the artist has heard the drum part I've composed for their music... it's such a personally rewarding thing to be able contribute to their music in such a deep way rather than just on the sound level.
Since '98 I've been creating audio plug-ins under the name "De-Vic?" which I've let go dormant for a few years now due to other life commitments but thanks to a kick up the bum from a strong and loyal customer base, I'm in the process of updating and testing them for re-launch.
What's your favorite stage in the music production process (mixing, recording, mastering, performing...) and why?
I'd have wimp out and say whichever one I'm doing at the time. It's not possible for me to do any of these well unless I throw myself into each stage completely.
Sometimes I'm driving along or doing something boring and some spark of a musical idea comes from nowhere and I have to pull off the road to record it into my phone and then race home to start recording what I hear, I love those moments as much as being on stage at the kit driving the band along when everyone's playing together as a unit or putting the final touches to a mix.
Favourite piece of gear you've used recently?
One piece, that's tough! Probably my Roland SH-5 analog synth from 1975. It came to me well loved (broken) from an old friend and it was badly treated by whomever he got it off, so I impatiently patched it up enough to use it. It wasn't a rebuild so I have fixed it three times since I got it in 1993 and the last time, I did it properly so now I know every component and circuit board in that thing.
It has that classic smell of a grandfather's inside of a car... all wood and warm wires and, to top it off, it has a great commonsense signal flow from left to right and makes fabulous sounds.
Next would be my Neumann U77 microphone and I'm loving my Sebatron Tube amplifier from a very clever and passionate builder in Melbourne. It's properly designed and built and you can really push it hard and it overdrives very musically.
Let's talk influencers. Any other producers, engineers, songwriters or artists that you're inspired by?
arghh too many...Adrian Utley (Portishead), Robin Guthrie (Cocteau twins) ...
I've really loved Alan Moulder and Gil Norton's productions over the years with Ride, NIN, Smashing Pumpkins etc. The Pixies 'Bossanova' floored me. Steve Albini inspires me to experiment with mic positions and Mike Stavrou's techniques work so beautifully it's like a revelation trying those things again after reading his book and applying the ideas.
Cevin Key is the under-acknowledged master of dark but beautiful electronica in my eyes and the mood and range of textures that Robert Smith has created with his music is truly inspiring. Ben Burt's film sound design is the pinnacle of using sound to move people.
Ringo, Stewart Copeland, John Bonham, Chris Whitten, Manu Katch?, Malcolm Green and Jon Farriss are gods to me and I've always loved Peter Gabriel's music and productions.
How did you first start recording music?
Watching my dad record my mother was probably where it all started? Dad would set up in the family room on weekends and hence forth we were banned from going to the kitchen whilst a recording was in session. My sister and I would sit silently in the lounge room trying not to breathe too loudly while my mum sang and played her guitar and my dad's 1/4" 4 track Akai reel to reel gently scraped away in his tiny little den. Later on I used his stereo cassette machine and another tape deck to make sound on sound recordings of my own music as the noise built up and up. Certainly teaches you about gain stages and mic positioning.
My dad built a crystal radio into my bedhead so I could tune to stray radio waves and was and still is the guy who showed me how tape machines work, how to build and fix gear, mic up a big band in under an hour and that it is actually possible to love jazz, The Beatles, Mike Oldfield, Wings and Linda Ronstadt all at the same time.
My mum pushed me to go play the drums instead of watching TV and took the 11-year-old me to see The Police in 1984 on their Synchronicity tour, a gig that will stay with me for life... thanks mum! From there I found it impossible not to be involved in not only the playing but working out how to capture and manipulate the sound too.
Name your bucket-list piece of engineering equipment?
An original Beatles EMI REDD console would be nice. When Mark Knopfler decides to upgrade maybe...I'm not fussy, I'd be happy with Mike Hedges EMI desk too...
Is there a piece of gear you no longer have access to that you miss when it comes to working on music?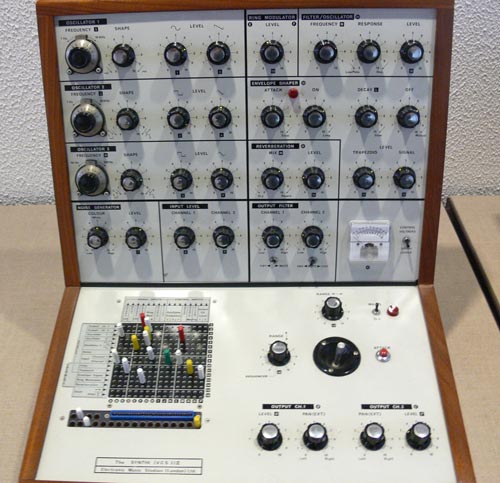 EMS Synthi VCS 3.
The private studio in Berlin, Germany where I did most of my film music creation, sound design and mixing had one and it was the first thing I'd turn on in the morning to warm up.
VCS3's have a pin board matrix patchbay which you can interconnect it to itself for some wild self-oscillation and far-out sci-fi sounds. It has the most stunning spring reverb built-in that you can run through its resonant analog filter and even has a mixing joystick for dynamically blending sounds and filters...Every piece of gear needs one!
I'd use that reverb on very single production. I used it all over the film Muxmaeuschenstill (quiet as a mouse) as well as the American film Street Thief.
Oh yes, one day, you will be mine...
Finish this sentence: If I wasn't engineering, I'd be...
drumming